Products & services
Production
In our workshops we design for example advanced processing equipment, chain transporters, shrews, steel constructions, platforms, stairs and whirl- cleaners in black as well as stainless materials. Here works experienced staff with after strict environment- and quality systems.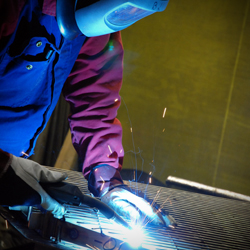 Service, montage & maintenance
A company with with industrial service within all categories.
Our maintenance & services are executed both in our mechanical workshop as well as in our customers' own facilities.
We offer, amongst others, ...
blasting
Welding
Montage
Mechanical maintenance
Layer switching
Laserbeamers
Maintenance of transporters
Repairs
Examples of products and services
manufacturing

Steel constructions
Smoke gas channels
Platforms
Stairs
Shrews
Redlar
Whirl cleaners

Montage & maintenance

Electrofilters
Paper machines
Gearboxes
Pumps
Transporters
Shrews
Redlers
Elevators
Voith Turbos
Fluidrives T-couplings
Hydraulic regulation couplings

Services

3D laser cutting
Polishing
Welding
Turning
Milling
Drilling
Drill grinding
Wedge track hauling
Clipping (T = 20 mm, L = 3000 mm)
Edge bending
Section Bending
Plate Bending (16 mm, ø1000, 8 mm ø345)
Edge pressing